This stream passage video set was originally produced in 2003 by the USDA Forest Service, Technology and Development Center, San Dimas, California in Cooperation with Federal Highways Administration. The VHS video tapes were converted by the Rural Technology Initiative to digital video and are now available for download or to view over the Internet.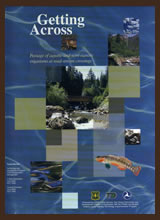 A Brief Introduction:
(MP4, download 84 MB wmv file)
This short video illustrates why and how road-stream crossings are constructed to pass aquatic organisms. It is a very brief introduction to the subject intended principally for land managers. (Running time is 6:00 minutes)
The USDA Forest Service has developed this information for the guidance of it employees, its contractors, and its cooperating Federal and State agencies, and is not responsible for the interpretation or use of this information by anyone except its own employees.
The use of trade, firm, or corporation names in this video is for the information and convenience of the viewer, and does not constitute an endorsement by the Department of Agriculture for any product or service to the exclusion of others that may be suitable.