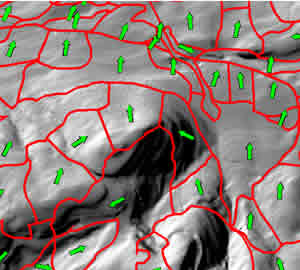 Red lines indicate forest stand boundaries on an analytically hill-shaded digital elevation model. The green arrows indicate calculated mean aspect per stand.
The LMS Analyst extension was created to update polygon-level landform attributes for forest stands. The analyst computes mean elevation, slope, and aspect on a stand-by-stand basis. The analyst needs an ArcInfo polygon coverage or ArcView shapefile representing forest stands (or other polygons) as well as an ArcInfo format grid representing elevation (or other Z-value).
Caveat: Needs ArcGIS 8.3, Spatial Analyst Extension, Microsoft .NET Framework 1.1 and the ArcGIS 8.3 .NET Developer Kit
What is LMS Analyst?
LMS Analyst is an ESRI® ArcGIS 8.3 Extension written in VB.NET 2003 to help foresters, forest engineers and GIS professionals with spatial analysis that complements the Landscape Management System (LMS) LMS Analyst was developed by Luke Rogers of the University of Washington's Rural Technology Initiative to help small forest land owners with forest management. Portions of the code are adapted from LMS Analyst for ArcView® 3.x written by Phil Hurvitz.
What does LMS Analyst do?
Currently LMS Analyst performs the following functions:

• Calculates Zonal Topography for a polygon theme based on an elevation GRID®
o Zonal Elevation (mean, min, and max)
o Zonal Percent Slope (mean, min, and max)
o Zonal Degree Slope (mean, min, and max)
o Zonal Aspect (mean – uses the Mean Angle Trigonometric approach)
System requirements:
Must have ArcGIS 8.3 with the ArcObjects .NET developer kit and the Microsoft .NET 1.1 runtime
Fore information reagarding how to Set up a client machine for an ArcGIS application written in .NET, see: http://support.esri.com/index.cfm?fa=knowledgebase.techarticles.articleShow&d=25020
Revisions:
Version 1.0.5000.0
-Added About LMS Analyst...
-Updated the install for better dll registration
Error reporting:
To better improve future versions of LMS Analyst error reports are sent to the author in case of an error. These reports contain LMS Analyst specific code errors only. These reports contain no personally identifiable information and are used solely for product improvement.
Terms of use:
LMS Analyst cannot be sold or marketed, except by Luke Rogers, the Rural Technology Initiative or the University of Washington. It cannot be altered into a new program, or included in an existing or new program, except by Luke Rogers, the Rural Technology Initiative or the University of Washington. By installing LMS Analyst you agree to these terms.
THE UNIVERSITY OF WASHINGTON DISCLAIMS ALL WARRANTIES, EXPRESS OR IMPLIED, WITH REGARD TO THIS SOFTWARE, INCLUDING WITHOUT LIMITATION ALL IMPLIED WARRANTIES OF MERCHANTABILITY AND FITNESS FOR A PARTICULAR PURPOSE, AND IN NO EVENT SHALL THE UNIVERSITY OF WASHINGTON BE LIABLE FOR ANY SPECIAL, INDIRECT OR CONSEQUENTIAL DAMAGES OR ANY DAMAGES WHATSOEVER RESULTING FROM LOSS OF USE, DATA OR PROFITS, WHETHER IN AN ACTION OF CONTRACT, TORT (INCLUDING NEGLIGENCE) OR STRICT LIABILITY, ARISING OUT OF OR IN CONNECTION WITH THE USE OR PERFORMANCE OF THIS SOFTWARE.