Rural Technology Initiative (RTI)

Activity Report: 2003
Table of Content
ISSUES AND TRENDS
The Technology for Sustainable Forest Management
Washington State has a diverse and significant forest resource that encompasses over half the area of the state and provides income producing products such as timber, fish, and flora as well as amenity values such as clean air, clean water, wildlife habitat, aesthetics, recreational opportunities and spiritual rejuvenation to the many people who use the forest. The forests are held across a diverse array of ownerships including over 90,000

family forests ranging from a few acres to over a thousand acres, hundreds of thousands of acres held by industrial forest companies and native American tribes, as well as very significant acreage held by public ownership
in state trust lands and national forests. The diversity and patterns of ownership create a broad mosaic of potential outcomes for forest resource management in keeping with the goals of individual landowners.
| | |
| --- | --- |
| Sustaining Washington's forests to ensure that they provide ecological values and maintain rural livelihoods and lifestyles requires a management assessment framework that can integrate across diverse ownership priorities and a wide range of forest conditions over the landscape. Given the increasing complexity of rules, regulations, and social pressures, landowners face new constraints and must make decisions that may be tested in many ways even as they give up cherished values. Understanding the consequence of the alternative they face has made predictive modeling and technical tools more valuable. Much research exists and many technical tools have been developed, but technology transferto rural areas has lagged far behind development even as it has become more important. In response to this increased need to use technology and the | |
lag in implementation, the Rural Technology Initiative (RTI) was established in January 2000 by a federal grant as a pilot project to accelerate the implementation of new technologies in rural forest resource-based communities. University of Washington (UW) and Washington State University (WSU) Extension created RTI, as a cooperative program with the support of a Rural Forestry Advisory Board. Funding, initially by a direct congressional appropriation and subsequently through the USDA–Forest Service Cooperative Forestry has been supplemented by competitive grants. Early efforts focused on understanding the impact of changing regulations, their impact on the widening gap between urban and rural incomes and how to maintain economic viability for sustainable forest management to avoid acceleration of land conversions to other uses. Empowering rural communities to utilize better technology for managing forests for increased product and environmental values has become the RTI mission. Integration of the best research from a variety of sources into technology tools that can help keep even the smallest forests sustainable is seen as a hallmark of the program. Once better solutions are understood, simplified templates provide the opportunity for widespread implementation.

Role of the Rural Advisory Board
RTI's Rural Advisory Board includes a broad spectrum of members, representing non-industrial private forests (east and west), community leaders, tribal forestry enterprises, forestry consultants, the Washington Farm Forestry Association, The Olympic Natural Resources Center (ONRC), American Forest Resource Council, Washington Contract Loggers Association, Washington Hardwoods Commission, Columbia-Pacific RC&EDD, Northwest Forest Products Workers, United Brotherhood of Carpenters, Okanogan Communities Development Corporation, community colleges, the Family Forest Foundation and USDA – Forest Service Cooperative Forestry.
The advisory board provides a wide array of rural constituent voices assessing needs and opportunities for technology transfer while assisting in dissemination of information. The advisory board suggests projects and provides recommendations on priorities to ensure that RTI remains sensitive to emerging issues that directly affect rural constituents.
Washington's Changing Forestry Environment
The challenges facing forest landowners in Washington State are numerous. While Washington is ranked as the 13th richest state in the United States, much of that wealth is concentrated in the urban areas along the N/S Interstate corridor and adjacent to Puget Sound. Most rural counties do not share this wealth, with rural county average incomes ranking with those states that are ranked 48th through 50th nationwide. The disparity of income between timber dependent and urban counties has increased over 60% in recent decades with the timber counties falling as the urban counties increased relative to the nation overall. The total timber harvest has consistently declined since the mid 80's, with a 48% decline in total harvest since 1988, and a 27% decline since 1991 1. These declines in harvest are from levels previous studies considered sustainable as they are attributable to changes in federal land management that has all but eliminated federal harvest on 33% of the forest land in the state along with substantial reductions on state trust and industrial forest land largely from more restrictive forest practices. Family forest harvest levels increased for a time, under the pressure to fill the gap, but are increasingly subject to constraints from riparian buffer requirements as well as land conversion. Protection of endangered species including salmon and the resultant statewide rules package changes, have significantly altered forest management, both for upland and riparian areas. Responding to these environmental issues requires an integration of forest planning and management activities, both across time and across the landscape. This integration requires a large suite of more complex planning tools.

One such planning tool is the Landscape Management System (LMS). LMS is a computer software system that bundles multiple planning tools, risk assessments, forest attributes, information sources, and desired management paths and outcomes into a manageable decision making format. RTI personnel have used LMS as the key software package to facilitate the transfer of technology to rural constituents to ensure that they meet legislative requirements that address environmental concerns, while sustaining forests, rural livelihoods and lifestyles.

1(Statistics from the Northwest Area Foundation at http://www.indicators.nwaf.org/)

Priorities
Technology transfer activities undertaken by the Rural Technology Initiative are driven by the advice of the Rural Advisory Board. The Board sets priorities based on the immediacy and risks associated with factors impacting rural livelihoods and sustainability. The Board reviews progress annually, proposes new projects and establishes new priorities. For 2003 the priorities were stated as follows:
Continuing priorities:
Affordable forestry technology training and web-based communications.
Case studies to understand the economic and environmental impacts of new regulations.
Continued development of road management tools and GIS applications.
Development of scientifically credible habitat and instream functionality models to support alternative management plans demonstrating the impacts of different treatments.
Riparian zone overstory shade and large organic debris (LWD) modeling.
Assistance to WA DNR-Small Forest Landowner Office database project development and validation.
New priorities:
Development of alternative plan templates for riparian management on NIPF lands - e.g. thinning for both desired forest conditions and economic viability.
Retrospective ecological and economic studies of existing forest streams and stream buffers and thinning to validate potential treatment alternatives.
Agroforestry tree buffers along agricultural land riparian areas.
Dry ecosystem case studies to understand the risks to sustainability
The uncertainty of continued federal funding combined with the momentum of support from rural communities encouraged RTI to seek supplemental funding where it was complementary to the mission. These supplemental projects allowed the RTI team to develop and deliver additional technical tools and integrative systems of considerable importance to rural constituents that would not otherwise have been possible.
Supplemental grants:
Developed alternative strategies for design, layout, and administration of fuel removal projects that incorporate the use of risk assessments for landscape planning (completed and published 7/03).
Characterized non-market benefits of fire risk reduction to support comprehensive cost/benefit analysis of hazardous fuel removal investments including impacts to energy markets, carbon credits, reduced fire fighting and associated costs (completed and published 7/03).
Developed alternate management strategies for fire risk reduction in the South Deep Watershed of the Colville National Forest.
Developed a carbon accounting system linked to forest management and product processing incorporating the findings of a national research consortium.
Developing a marketing report based upon purchaser surveys and interviews to advise the WA DNR timber sale program for dry forest areas at risk of insect, disease, and fire damage.
Developing a landscape management planning assessment for the Bremerton Municipal Watershed.
Conducted GIS assessments on riparian ownership statistics to support federal assurances for the Forest and Fish Agreement.


PROGRAM FOCUS AREAS
Landscape Planning Software and Applications
Training and Education Collaboration
Riparian Management and Habitat Restoration
Carbon Assessment for Markets and Policy
GIS Landowner Database and Applications
Management for Fire Risk Reduction
PROJECTS:
LANDSCAPE PLANNING SOFTWARE AND APPLICATIONS
LMS Inventory Wizard
LMS Analyst
LMS Economatic
LMS Carbon Accounting
LMS Crown Fire Assessment
LMS Site Index calculator
LMS Alternate Plan Assessment
Stand density for infestation control
Streaming video (interactive)
Road layout (interactive)
Culvert placement (interactive)
TRAINING AND EDUCATION COLLABORATION
Technical Training

GIS, GPS, LMS
Road Upgrading

Education Collaboration

Forest Stewardship Educational Program for Family Forest Landowners
Forest Stewardship Notes
Coached Planning Curriculum - in collaboration with Washington DNR
General Timber Management Opportunities
Watershed and Riparian Zone Education
Wildlife Habitat Education
Accredited Logger Program - assistance to WCLA
Community colleges
Presentations and Testimony
Field demonstrations
Pack Forest, Eatonville - Westside Riparian Regulations
Sherwood Forest, Colville - Eastside Riparian Regulations
Use of Interactive Streaming Video Technology as an Internet Delivery Technology
First use outside of RTI generated programs was Sudden Oak Death Conference,
sponsored by WSU-Puyallup, July 2003.
Newsletters
Fact Sheets
Grad student projects

Innovation for Survival of the NW Forest Sector conference/workshop
Technical review meeting
RIPARIAN MANAGEMENT and HABITAT RESTORATION
Habitat Evaluation
Instream functionality

Shade
LWD
Particulate matter

Natural forest assessment procedure
Alternate Plan evaluation
Eastside health risk
Lit Review on old forest structure restoration
Lit Review on water use by tree species
Statewide road upgrade costs
NIPF road upgrade costs
Road management field guide
Road maintenance training seminars
Westside buffer case studies
Eastside buffer case studies
Agro-forestry buffer pilot study
LWD in buffers
Stream bank stability impact on management
Wildlife education
CARBON ASSESSMENTS for MARKETS and POLICY
Carbon accounting links from CORRIM to LMS
Carbon in the forest, products, fuel displacement and product substitution
Eastside calibration
GIS LANDOWNER DATABASE AND APPLICATIONS
Land parcel GIS database
Parcel database validation
Exempt parcels analysis
FIRE RISK REDUCTION
Treatment alternatives modeling
Training module
Market and non-market value motivation
Risk and cost reduction with community economic activity
South Deep watershed treatment differences
Risk assessment refinements
Stand condition targets for sustainability

LANDSCAPE PLANNING SOFTWARE AND APPLICATIONS
Improving the Tools
To facilitate problem solving in rural communities better tools are critical. RTI has developed, enhanced or made more user friendly a number of tools critical to management planning and policy analysis:
Forest Management and Planning: GIS, GPS, remote sensing, decision support systems, Landscape Management System (LMS), including the Inventory Wizard input module, forest/habitat planning, and fire risk evaluations.
Forest Engineering: road construction/maintenance aids, including harvest/forest-treatment equipment and methods.
Business Planning: E-business technologies, business performance and forest assessment information.
Empowering Exiting Infrastructures by:
Adding more tools, technical experts, trainers and training methods.
Leveraging existing extension service and other outreach systems with better tools and information.
Supported more rapid conversion of research findings to useful tools.
Used web based information and tools to reach the widest possible audience faster
Specific tool improvements that have been added to the technological repertoire in 2003 include:
For more user-friendly operations: (3 tools) Developed and improved the Inventory Wizard, LMS Analyst, and LMS Economatic. The inventory wizard facilitates data entry into LMS and the LMS Analyst facilitates calculation of site level variables. Both tools greatly improve portfolio development. The Economatic provides a Microsoft Excel template to permits extensive 'what if' scenario assessments of the economic consequences of management actions. Added refinements and upgrades to LMS to keep pace with the evolution of computer software developments along with improvements to the LMS algorithms which permit easy data calculation for landscape level habitat and management analysis strategies.
For carbon accounting: (2 tools) Developed Microsoft Excel template tools linked to LMS for carbon life cycle analysis to facilitate user friendly assessments of carbon consequences for management actions. Data is further summarized and graphed automatically providing enhanced functionality for rural users. The tools are currently being used to assist in evaluating carbon outcomes for different management options under consideration for forest certification purposes.
For fire risk assessment: (2 tools) Developed a software package that permits users to choose a number of fire simulator outputs as risk indicators for their specific stand conditions and modeling needs. Developed a mapping tool that will facilitate landscape level risk assessments based on your chosen treatment scenarios that translates directly into a GIS application.
For growth modeling: (2 tools) Developed a refined site index tool to improve predictive capabilities of a number of growth models. User input of species, height and age data will generate a site index based on the user's chosen curve, thus improving the assessment procedures for evaluating competing management alternatives. We are also building an interface to the National Volume Estimator Library which will permit LMS users to define their own parameters for volume calculation. This improves the accuracy of modeled volume estimates produced by growth models inside LMS.
For riparian management: (2 tools) Expanded the software simulation capabilities to support the evaluation of new management scenarios for the Family Forestry Habitat Conservation Plan (FFHCP) riparian strategy and RTI alternate plan templates. Developed a stand density index assessment tool to facilitate analysis of partial harvest options in eastern Washington.
For communications and extension: Interactive streaming video was used for all presentations made by RTI personnel. This state of the art technology permits a wider audience for the presentations as it makes timely viewing of video presentations on the web possible. Interactive streaming Video is now being used as a distance learning tool for many RTI and WSU Extension programs. RTI personnel developed this technology to integrate and synchronize digital video images (the speaker) along with their corresponding PowerPoint slides and to capture informative classroom and field demonstrations on the web or on a CD. Since last year, RTI personnel have moved this new low cost technology from its infancy to making it a major mode of outreach. This video technology dramatically increases the accessibility of information presented at seminars, conferences, and workshops. The scope of possible audience has changed from the number of seats in an auditorium to the number of clientele with an internet connection. In July 2003, this technology was used for the first time to expand the audience at a Sudden Oak Death (SOD) conference. Over 50 persons were turned away from the live conference due to space limitations. They were invited to see the conference in its entirety via the web only a little more than a week later. Interactive streaming video fits perfectly with RTI's goal to transfer forestry technology and information from urban areas to rural communities.
For roads: A road layout extension program that supports computerized road pegging is currently available on the RTI website. In order for landowners to meet regulatory requirements on the states RMAP program, a companion interactive culvert placement model is being tested to assist culvert placement by assessing potential sediment loads under various culvert mapping strategies. The technical tools are all available on the RTI website. (www.ruraltech.org).
2 We expect that WSU Extension will utilize this interactive video technology outside of forestry in 2004 and beyond. Presentations at the 2004 ANREP and SAF (Association of Natural Resource Extension Professionals and Society of American Foresters, respectively) national meetings will introduce the technology to a much broader potential audience.

TRAINING AND EDUCATION COLLABORATION
Technical Training:
Extension of research and technology can be facilitated in a numbers of venues. Classroom, field, and laboratory lectures were used primarily to transfer knowledge live. Many of RTI's short courses are designed to fit the potential audiences. Many rural attendees indicated to us that 2-3 day short course formats suit them best for major programs. Nine courses on the following topics were offered in 2003.
GIS, GPS, LMS, Forest and Fish, and Innovative Management and Marketing.
Development of roads training workshops for small landowners in collaboration with WA DOE and WA DNR Small Forest Landowner Office has been under development in 2003 and will be delivered in three locations in 2004.
We have been successful at getting this technology into the hands of forest owners in a timely and effective manner. Users evaluate the training sessions very highly with the biggest criticism being that there isn't enough time to learn all there is to know!

These evaluations tell us that future workshops need to be catered to user groups based on initial skill levels. As with all extension work, there is a challenge in measuring visible outcomes due to the time lag between extension effort and landscape changes. How do we

| | |
| --- | --- |
| TrainingType | Average Rating(out of 5) |
| LMS | 4.3 |
| GIS | 4.6 |
| GPS | 4 |
| ALL | 4.4 |
assess our success in affecting outcomes? One proxy of success is to examine how many different types of user groups we have reached with our extension effort compared to the number of user groups that have a
| | |
| --- | --- |
| management role and vested interest in forestry related management efforts in Washington State. RTI's hands on formal training sessions in our core technologies including LMS, GIS, and GPS have been delivered to 220 people to date3. Our client base includes a wide range of constituents as indicated in the following chart. The 'other' category includes some non-governmental organization clients as well as a number that are likely non-industrial private forest landowners that cannot be confirmed as such. | |
3 This number excludes the hundreds of NIPF landowners receiving RTI information indirectly via WSU Extension Forest Stewardship programs.
Training
Type

Number of
attendees

LMS

112

GIS

61

GPS

47

ALL

220

Our client base indicates that RTI's extension model is reaching a far greater number of people than those we have trained directly because of a multiplier effect of having trained a large number of educators, consultants, and government (including local, municipal, state, and federal) in our core technologies. The results of the training are embedded in many more outreach activities and demonstration sites, including coached planning and multiple field extension activities. In addition the training and the technology tools are available on the web supporting a much larger population than those that attend the workshops may access.

An Innovation for Survival of the NW Forest Sector Workshop was sponsored in 2003 and can be accessed via interactive streaming video on the RTI website. The workshop participants were largely industrial and non-industrial private landowners and federal, state, and tribal government officials. Presenters provided a number of innovations in (1) forest management, (2) log marketing and administration, and (3) products and product markets. The presentations and discussion were directed at increasing the number of innovations or identifying how we can better integrate policy, strategy and innovation for the health of the forest sector, and in particular, how different players and sectors might help each other to insure sustainable opportunities for forestry in the Northwest. As many of the problems faced by rural forest owners are either a direct consequence of new regulatory constraints, or the indirect effects of log price reductions, and declines in processing infrastructure, the need for greater public support and fund raising to accomplish outreach efforts were judged to be critical to facilitate these innovations. The workshop was directly applicable to rural needs as all of the 74 participants responded that they learned something that would help them, with specific implementation techniques clearly identified. Follow-up workshops to share and learn about successful implementation are under consideration.

Education Collaboration and Demonstration
In addition to short course programs, RTI findings are being made available via the RTI and WSU-Natural Resource Sciences web sites, RTI's newsletter and project fact sheets, WSU Forest Stewardship Notes newsletter, other publications, and numerous presentations. There has been extensive collaboration with Community Colleges and tribes to broaden higher education opportunities for rural constituents including.
90+ professional presentations to 40 different groups.
Testimony: WA State Legislature to present RTI economic analysis of Road Maintenance and Abandonment (RMAP) regulations.
Field demonstration sites were implemented for buffer management educational seminars in both Western and Eastern Washington at Pack Forest and Sherwood Creek Forest respectively. Both demonstrations are available via interactive streaming video on the RTI website.
Web information is extensive (newsletters, 26 project fact sheets, presentations, papers, image archive)
An annual review of activities and priorities generated input from the RTI advisory board, participating faculty, and extension personnel on how to do an even better job more efficiently.
WSU's Coached Planning Curriculum utilized RTI's expertise at more than 10 training sessions offered across the state in 2003, with over 200 family parcels represented. RTI expertise has been incorporated into the coached planning curriculum since 2000, augmenting this long standing educational effort. These sessions are designed to assist family forest landowners in developing and writing management plans for their private forests.
RTI's expertise has been incorporated into general WSU Extension educational offerings, covering subject areas from wildlife habitat to watershed and riparian zones. With the addition of the Inventory Wizard to LMS, we expect to have more family forest landowners using LMS for determining desired future stand conditions and using the program to help schedule management activities for improvements in profitability. LMS's value to the intergenerational planning by family forest landowners cannot be over stated.
Distance learning modules are being developed to link courses at the University of Washington with students at regional community colleges. These modules will be delivered in 2004.
WSU Extension is using RTI expertise to help update loggers under the WCLA's Accredited Logger Program.
Distance delivered classes are being held at Washington State University for place bound students. RTI's interactive streaming video plays a role in this delivery. We expect to use this technology more in 2004 and beyond.
RTI software such as LMS, available on the web, is used by local community colleges and educators across the nation
Extensive awareness and recruitment efforts have been conducted at regional community colleges to deliver the message that technology can help in maintaining rural livelihoods, lifestyles, and environment. The goals of these efforts are multifaceted. First, through the web based learning and links, community colleges can benefit directly from the tech transfer efforts. Second, rural students become aware of potential solutions and opportunities available to them in rural based technologically sophisticated careers.
RTI leverages it resources by funding graduate students (UW, WSU, Evergreen State) working with faculty and Extension personnel. The students receive valuable training and assistance and enter the job market with better technological skills. Integrating this approach with recruitment efforts directed at students in rural community colleges who are more likely to return to there communities, is seen as an additional benefit to rural constituents.
4 This number excludes the hundreds of NIPF landowners receiving RTI information indirectly via WSU Extension Forest Stewardship programs.
RIPARIAN MANAGEMENT AND HABITAT RESTORATION
Credible Relationships:
Addressing water and riparian management, and habitat maintenance and restoration is one of the core issues for our rural advisory board. As such, development of procedures, templates, models, assessment techniques, and an easily accessible literature review were a significant focus in 2003. The credibility of the relationships used to show the impacts of forest management on habitat and stream conditions is a central issue to the future of successful management decisions and especially for the opportunity to demonstrate improvement through alternative plans. Habitat, shade, woody debris and other models can be used to measure improvement. The use of these models by rural constituents typically requires information which is not readily accessible outside a college or university setting. Making that information readily accessible in web-based format to direct users and consultants is seen as crucial to facilitating tech transfer.
Because trees carry a significant quantity of leaf area, they have the potential of moving large quantities of water from the soil to the atmosphere. Besides leaf area, other factors that affect the amount of water transpired (evaporated from leaves) include climate, topography, species, and stand density, to name a few. Forest managers can control water regimes on some sites by altering the species mix, stand density, and age class distribution. This may be important where increased water yields are desired, water yields have declined or to remove excess water in the case of high water tables.

Habitat and Riparian Functionality Projects:
The Habitat Evaluation Procedure (HEP) developed by Washington Fish and Wildlife has been mechanized and linked to stand structure information from the Landscape Management System allowing ready evaluation of the impacts of management treatments on habitat measures. A range of Habitat Suitability Indices (HSI's) have been incorporated and demonstrated on a number of forests and NIPF properties. Projections of habitat suitability have become routine outputs for characterizing management alternatives for species for which habitat suitability predictors have been developed.
Instream functionality indicators have been developed for shade, woody debris, and particulate matter as the more important functions impacted by forest management. These measures are being used and evaluated to support alternative plans.
Habitat modeling is no better than the quality of the relationships linking suitable habitat to forest stand variables and in many situations the relationships are inadequate. Demonstrating no degradation in function for a reasonable number of important forest stand measures has been evaluated and would appear to be more reliable and may ultimately become an acceptable procedure for both habitat modeling and riparian functions.
Alternate Plan Assessment Procedure: An assessment procedure has been developed to test whether alternative plans are significantly different and less desirable than the distribution characterized by old forest stands holds promise as the most foolproof defense for alternative plans. Doing nothing does not restore the desired condition and is generally worse than managing stands for desired conditions as well as more costly. While the statistical process is complex, once acceptance is established, templates can be developed for easier identification and implementation.
East side health risk models: Risk models have been developed to estimate thresholds of fire risk and insect infestation based upon Stand Density Index (SDI) metrics that are being developed into a look up table based upon average diameter (DBH) and trees per acre (TPA) to serve as a density guide for forest land owners. Work is in progress to correlate stand density index and basal area to habitat types and site specific parameters so that the method can be applied across the region.
A literature review has been conducted that reveals a growing consensus in the scientific community that active management in young forests is more likely to produce older forest conditions quicker than no management. This review has been summarized in an RTI fact sheet "The Emerging Consensus for Active Management in Young Forests".

A literature review entitled

Water Use by Forest Tree Species in the Pacific Northwest

was compiled by Dr. John H. Bassman, WSU Professor of Tree Physiology. Over 1500 published papers were consulted with 865 included in the final database. Of these, 314 PDF files will be made available on the web site, with another 664 journal articles available in our archive. Eventually, the entire database will be made available on the web. A synthesis paper on the relationships between forest conditions and water will be prepared during 2004.

Riparian Regulations : Road Upgrades:
Forest and Fish regulations require landowners to develop road management and abandonment plans (RMAPS) that avoid the potential of slope-failure and unwanted sedimentation. Road design, distribution, and decommission can be improved with software to quantify benefits and costs. Requiring upgrades with minimal benefits can be costly and undermine compliance. RTI provided the following expertise to private landowners to understand and comply with the RMAP statutes in 2003:
Statewide cost estimates for road requirement were developed contributing to recognition that program changes would be required before compliance would be likely.
Economic impacts on small forest landowners for a range of road requirements were published.
Findings were present to the State Legislature contributing to passage of regulatory relief for small forest landowners.
A field guide for road management has been developed for assisting road upgrade activities.
A series of Road Maintenance training seminars is being developed for 2004 in collaboration with Washington State Department of Natural Resources and Washington State Department Ecology.
Riparian regulations: Buffers
Landowner concerns about regulatory constraints have usually ranked highest on the advisory groups' priority list. Case studies provided detailed insights into the impacts of management alternatives not possible from statistical studies. The opportunity to both lower costs and provide better ecological protection through site-specific alternative plans is allowed, but only available if it can be shown that environmental protection is not reduced.
Ten Western Washington small owner case studies showed wide disparities in Total Forest Value losses that could be largely mitigated by adoption of the Forest Riparian Easement provided by the state to mitigate extreme economic impacts, but only if the funds available are increased substantially.

However, bare-land values are reduced to near zero or even negative values with any substantial share of acres in the riparian zones as the riparian easement program only mitigates losses in standing timber values, not land value. This will ultimately contribute to increased land conversions since sustainable forestry is not economic.
To date, many small owners are choosing to do no management in the riparian zone, the worst case both economically and environmentally short of conversion. The complexity of the management that is still allowed and lack of knowledge about the alternatives are contributing factors.
Case study findings have contributed to improved interpretations within the rule making process and implementation by the DNR Small Forest Landowner Office (SFLO).
Alternative plans are being evaluated that include reducing excessive tree densities, hardwood conversions, placing large wood in streams, designing asymmetric buffers that afford equivalent protection while better complementing road layouts. Templates are needed to reduce costs, complexity, and acrimony that characterize the present ID team negotiating process.

Ten East-side case studies show similar disparities and economic impacts. However, the regulations prevent multiple entries that are needed to reduce fire, insect, and disease risks prevalent in Eastern Washington forests. Alternate plans can improve upon the chances of restoring old forest conditions with some improvement in economics but perhaps not enough to sustain good forest practices. Templates are needed to reduce costs, complexity, and acrimony that characterize the present ID team process.
A pilot agro-forestry project was developed to test the hypothesis that hardwood riparian buffers on agricultural lands can provide an opportunity to improve salmon protection by reducing effluent run-off and increasing shade while providing harvestable timber to increase the income potential of the land to agricultural enterprises.
A consultant project examining post-harvest buffer conditions in the western Washington cascades was conducted to test elements of alternative planning for wood recruitment processes. Results indicate that post-harvest windthrow dominates instream large woody debris recruitment processes and patterns in riparian buffers which affects the accuracy of estimates currently used in models that determine acceptable management action within streams. Emerging from this work is a model that more accurately predicts wood recruitment and provides guidance on management actions to facilitate long term riparian health.
Riparian stream restoration using a landscape level strategy:
RTI is working on a field guide for landowners, or their consultants, to assess stream-bank stability and stream type. This will permit determination of where a stream reach currently falls on a stream channel evolution sequence. This is crucial for providing guidance on whether implementation of riparian buffers will be able to provide long-term water quality and habitat protection or if the buffer is likely to be obliterated by channel migration. In the latter case, some alternate plan involving channel geomorphic restoration will be needed to achieve habitat and quality goals. The assessment process has been developed for glacial fluvial valley types which are the types where conflicts between threatened species needs and human use most commonly exist.
If the landowner determines that riparian management is not likely to be successful without addressing current geomorphologic degradation processes, guidance for how channel restoration should proceed is also essential. Geomorphic stream restoration involves returning the channel to a stable channel geometry that can maintain its relative dimensions and can move its sediment load without aggradation or degradation over time. RTI has developed a restoration template to allow for the necessary calculations of dimensionless ratios for channel morphology in glacial/fluvial valleys in climatic regions of both the east and west slopes of the Cascades.
With proper channel design, geomorphic restoration can be much less costly, is aesthetically more attractive, provides better fish habitat, does not transfer energy and problems upstream or downstream, and is stable in the long-term, in contrast to more traditional stream channel restoration approaches (and compared to improper riparian buffer implementation).
For landowners, the value of this information is in providing an assessment mechanism for the appropriateness of riparian buffer implementation on a specific site, and for providing a template for stream channel restoration if riparian management alone will be insufficient to accomplish stream habitat objectives.
Future work will expand on this landscape level approach by performing the same analysis in other valley types that will target additional critical habitats in terms of fish and degree of impacts. There are some differences in eastern and western Washington streams that seem attributable to the quantity of wood in the streams that have practical implications for how riparian zones on eastern and western slopes should be managed for wood export to streams. In addition there are some important differences in bank full frequency which has great implications for hydrological modeling and channel assessment – all which drive costs and outcomes associated with riparian restoration projects.

Wildlife Education on private forests:

Private landowners control nearly 20 percent (3.1 million acres) of Washington State's forest lands. These private forests provide important habitat for a large number of wildlife species. Owners of these forest lands have a unique opportunity to enhance wildlife conservation both on their own land as well as state-wide. Recent studies of private forest landowners indicate that wildlife conservation is an important reason for land ownership in Washington, and not just on rural lands. Urban green belts and open space areas are becoming increasingly important for many species of wildlife living along the urban fringes and within the rural-urban interface.


WSU Extension, the WSU Department of Natural Resource Sciences and WSU's Community Service Learning Center developed a pilot project to provide wildlife education to communities around the state. The objectives of the project were to enhance student learning by connecting theory with experience and thought with action; fill unmet needs in the community through direct and meaningful service; help students see the relevance of the academic subject to the "real world"; and develop an environment of collegial participation among students, faculty and the community.

Extension educators arranged on-sites visits with private landowners in Whitman, Stevens and Kitsap counties for sophomore students in wildlife management. The students identified wildlife issues of importance to private landowners, and then wrote extension bulletins for the Natural Resource Extension Web site. Ten student authored bulletins have been chosen for publication on the WSU natural resource extension web site and the College of Agricultural, Human and Natural Resource Sciences (CAHNR) publications page 5. Wildlife and forestry professionals from state and federal agencies have agreed to provide technical reviews of these publications prior to making them available to the general public.

Through their interaction with county extension faculty, the students gained a more profound understanding of the role of extension in the community and the link between research and application of that research. Students also recognized the needs of private landowners trying to manage wildlife habitat and the challenges encountered in meeting these management needs.

WSU Fall Education Seminar called "Wildlife in Working Forests" focused on habitat improvement on private forests in western Washington.

Topics included:
Ecology of wild turkeys, Jim Bottorff, WA-DNR
Small mammals on private lands, Steve West, UW
Conservation of Neotropical songbirds, Janean Creighton, WSU
Bat habitat on small woodlands, Janean Creighton, WSU
Reducing black bear damage to forests, George Ziegelstrum, WFPA
Chronic wasting disease in wild ungulates, Kristine Mansfield, WDFW Veterinarian
Conservation of the band-tailed pigeon, Jim Bottorff, WA-DNR

Over seventy private forest landowners and natural resource professionals were presented with the most current and relevant research on wildlife species and populations in Washington state6. This information allows landowners to make informed decisions regarding wildlife conservation and habitat preservation on their forest lands and gave important feedback to extension officers regarding future training needs.

| | |
| --- | --- |
| | Four additional wildlife seminars were given to audiences comprised of non-industrial private forest landowners, professional loggers, members of a watershed stewards training class, youth groups including 4-H members and participants in Natural Resources Youth Camp, local Audubon Society organizations, and other interested public throughout eastern Washington and northern Idaho. |
5 One of these papers is under consideration for publication by the Woodland Fish and Wildlife Group, an Oregon-Washington cooperative endeavor.
6 RTI's interactive streaming video was used to expand this audience many hundred fold. Many of the presentations are now available on both RTI's and WSU's websites. The small turnout for this timely workshop was the result of a brochure distribution snafu by the US Postal Service.

CARBON ASSESSMENTS for MARKETS and POLICY
Carbon Modeling for the Forest, Products, Energy Displacement and Substitution:
RTI has developed a carbon tracking model linked to a national research consortiums efforts to develop the complete environmental performance foot print of all inputs and outputs associated with the growth and use of wood in the construction of residential houses. The LMS model is used to simulate forest growth and carbon sequestered in the forest under user defined management alternatives. The carbon links developed with LMS compute the carbon stored in the trees, roots and litter. At harvest the model tracks the carbon into products both short and long lived, and biofuel displacement of fossil fuel as a substantial offset to the harvest and processing emissions. Harvesting of wood also causes the substitution of wood for fossil intensive substitute products. This capability is now available in LMS and is being published as a part of the Consortium for Research on Renewable Industrial Materials (CORRIM) massive report on the life cycle of renewable materials in construction. The report shows that while carbon sequestered in the forest tend to reach a stable long term equilibrium under any repeated management scenario, the carbon stored in products is continuing to increase with substitution a major factor.


| | |
| --- | --- |
| | The model has the potential to provide a reliable accounting of carbon stored in the forest. But perhaps of much greater importance is the potential to obtain a share of the credit for the product streams produced by the forest. Future work will improve the accounting for carbon in inland-west forests, and products under a range of management alternatives that are based on fire risk reduction strategies. |

GIS LANDOWNER DATABASE AND APPLICATIONS
SFLO Database:
The Forest and Fish Agreement recognized that small landowners would need help in complying with complicated regulations and mandated creation of a supporting Small Forest Landowner Office and development of a database to report on the impacts on small owners. The Rural Technology Initiative, with the help of the Small Forest Landowner Office and other consultants, was able to design and construct a database that can answer questions mandated by House Bill 2091. With further verification of data validity at the county level, the SFLO database will be an important resource of NIPF information for the state of Washington.
The Washington State Department of Natural Resources – Small Forest Landowner (SFLO) database is a complete record of parcels designated as non-industrial forest land in Washington State. The data has been collected from the assessor's office of every county in Washington that contains timberlands or forest lands7. RTI staff converted thousands of records from 34 separate county databases into a single common format using Microsoft Access? and the Visual Basic programming language. The state will use information produced by the database to evaluate the effects of new regulations on the NIPF and to help support adaptive management legislation.
There has been no database sufficient to even count the number of small forest owners let alone to analyze changes. Under interagency agreement a data processing program was developed for the SFLO to bring county level tabular information from tax records into a common framework and, where available, integrate GIS spatial information. Definitional differences were harmonized and reports on ownership patterns developed (Tabular report completed and submitted to WA DNR; Spatial analysis is ongoing county by county as funding becomes available).
Given the inconsistent quality of data across counties, a validation study on two counties with generally good GIS information was completed to better understand the uncertainty and character of data errors. In spite of the data deficiencies the new integrated database on small owners provides better source information than was previously available.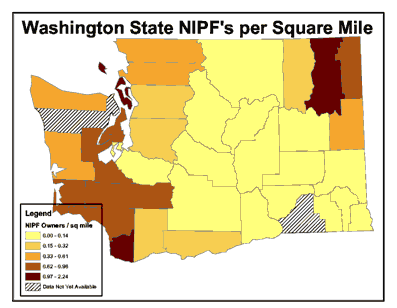 Figure 1 - NIPF owners per square mile.
Stevens and Island Counties have the most.
• As part of a supplemental grant, additional work has been completed for the Washington DNR in support of an environmental impact statement on parcels that are exempt under the forest and fish rules. The new insights indicate that these exempt parcels are generally located in the urban/rural interface on larger fish bearing streams. The analysis is expected to allow for a refined focus in developing strategies that will meet ecological and economic goals for these islands of critical habitat.
7 It is generally felt that the number reported under these two tax classifications underestimates the true number of forest landowners. Many family forest landowners have their lands in other tax categories.

FIRE RISK REDUCTION
Analysis of Treatment Alternatives:
Poor forest health and subsequent catastrophic fires plague the forests of the interior west. This problem has been directly linked to the absence of periodic ground fires and subsequent increases in fuels and general stand density that is over-stocked. The problem is so pervasive in the interior west there are few if any dry pine-fir forests where live tree density and dead and down biomass are in sync with the natural fire regimes of the area. Forests that previously were characterized by frequent low severity surface fires that essentially thinned the forests cleaning out the understory now are at risk of high severity crown fires over extensive areas. These catastrophic fires present a hazard to maintaining biological capacity, site nutrients, riparian functionality, humans, wildlife, and structures. Efforts to reduce fuel loads are hampered by low product values, high harvest costs and other environmental concerns.
RTI has a number of projects that assess fire risk and natural fire regimes. Outcomes of these projects are expected to provide management tools that ensure rural sustainability by addressing rural livelihoods, economics, and environmental considerations concurrently.
RTI obtained supplemental funding and completed projects that rely on modeling of forest stand data for the Okanogan, Wenatchee, Colville and Fremont National Forests. Modeling outcomes have led to recommendations about methods and approaches required to reduce risk on both stand and landscape levels. These projects provide landowners with the tools necessary to reduce costs and reduce risks of fire in rural landscapes. Outcomes from this work are summarized below:
A dry site thinning training module for designing treatments appropriate to a wide variety of stand and local market conditions has been developed. Requests for supplemental funding to initiate technology training for risk assessments and hazardous fuels reduction planning were submitted to multi-agency grantors.
Market and Non-market values from fire risk reduction (fire fighting costs, property and lives lost, water saved, regeneration costs, public value of lower fire risk etc.) that are often overlooked in cost/benefit analysis of investments in hazardous fuels removals, while variable by area, have been shown to be much larger than the cost of mechanical thinning of small diameter trees to reduce the fire risk.
Analysis of alternative strategies shows that aggressive thinning, while leaving a large tree overstory, is essential to effectively lower fire risks and restore older more sustainable forest conditions. Removal of some merchantable trees reduces the fire risk while also lowering the treatment cost. The inability to offer long-term contracts for fire risk treatments without litigation is a primary constraint on fire risk reduction on public lands but is being addressed by Stewardship End Result Contracting authorities newly granted to federal forest managers.
Small diameter trees if removed to reduce fire risk provide economic development opportunities for rural communities. Establishment of cogeneration facilities also results in green energy from forest biomass as a substitution for fossil fuel.
The fire risk assessment tools were applied to the South Deep watershed in Colville National Forest. Results indicate that treatment regimes from the Okanogan and Wenatchee were less effective at simultaneously meeting economic and risk reduction goals on average. Further analysis to elucidate the biological underpinnings of these results will be dependent on additional funding.
In Lakeview Oregon, an additional landscape level fire risk analysis was undertaken. Refinements were added to the risk assessment procedures within LMS to account for the difference in natural disturbance regimes in this study area.
Stand Conditions For Sustainability: Establishing the Dynamic Range
Eastside forest conditions are not sustainable when contrasted with what were believed to be pre-settlement conditions but there are no remaining stands to serve as statistical models of the desired future condition. A demonstration project and analysis has been undertaken to refine our understanding of the amount, size and quality of fuels that exist under various natural disturbance regimes in order to better understand what it may take to restore a degree of sustainability. Using previously developed data from eastern Washington paired with data on comparable sites in Siberia where human influences are negligible, RTI personnel are working toward demonstrating differences in crowning fire potential for the various development stages of eastside forests and describing forest stand structure that is supported by inherent fire regimes characteristic of eastside dry pine-fir forests.

The demonstration project has three phases: 1) stand structure data analysis, 2) fire management analysis of stand structure information for crowning potential and 3) the description of stand structures resulting from fire regimes of dry pine-fir forests. We have completed phase one and are currently in phase 2.

Significance:
he U.S. data allows us to go back in time and estimate the forest structure present at different stages in stand development. This is the input data required to determine fire crowning and surfacing potential by development stage.
Siberian data provided guidance on the small snag and log loading to be expected from stands with an intact fire regime similar to that of eastside forests.
The analysis process to achieve the primary goals of the project has provided several ancillary outputs of significance to private, state and federal land managers responsible for meeting forest protection regulations that create and maintain desired forest conditions.

Decay rates for snags and logs by species for dry eastside forests.
Age at mortality for snags by size class and species over time.
Origin dates for current large snags and logs.
Differential change rates (species composition and tree density) by forest plant association since euro-settlement and the alteration of fire regimes.
This demonstration project lays the foundation for using the natural process of stand development and forest succession in the management of future fuel loads and fire hazard. The goal is to be able to demonstrate how to manage a forest to create patch mosaics similar to pre-settlement history which would reduce the risk of devastating crown fires.

RTI PROGRAM REVIEW ORGANIZED BY CSREES
RTI invited CSREES and USFS to conduct a formal review of activities in anticipation of entering a 5th year of activity as a pilot project. A broadly based review team was assembled and their October report affirmed:
That the RTI is having a positive impact on technology transfer to the benefit of forest- based rural communities and tribes.
That RTI's approach to technology transfer does result in new opportunities for integration of economic and environmental goals into forest management, and environmental protection strategies.
That RTI does provide a unique technology transfer approach, culture, and style and that RTI's impact would not likely have occurred in existing delivery structures.
Moreover, the Review Team is able to affirm that the RTI model does have application to a broader geographic structure but only if a more permanent source of funding can be obtained. In that regard, the Review Team encourages the RTI to simultaneously work on endowments, other sources of local funding and expanded partnerships. And finally, the Review Team encourages diligence. The RTI has a receptive, dependent audience and they are fully expecting you to help them remain viable.
The 2004 RTI annual technical review scheduled on Feb 4 will be focused on how to respond to the Review Team's recommendations.
APPENDIX
Publication List – 2000-2003 (excluding RTI newsletter articles):
Programmatic Fact Sheets
CFR Fact sheet: Rural Technology Initiative
CFR Fact sheet: The Landscape Management System (LMS): Using Emerging Technologies in Forestry Applications.
Project Fact Sheets (2000-2001):
| | |
| --- | --- |
| FS 1: | Impact of the Forest Sector in the Washington State Economy. |
| FS 2: | Case Studies examining the economic impacts of the Forests and Fish rules on NIPF landowners in Western Washington. (Revised in 03) |
| FS 3: | Case Studies examining the impacts of the Forests and Fish Rules on NIPF landowners in Eastern Washington. |
| FS 4: | NIPF Road Upgrade and Stream Crossing Costs under Washington Forest and Fish Regulations. |
| FS 5: | The Washington State Small Forest Landowners Database. |
| FS 6: | Defining and Using Biologically Based Targets in Forest Management: Incorporating Forest Structure and Variability. |
| FS 7: | Will Low Prices for Large Logs Mean Shorter Rotations on Private Forest lands? |
| FS 8: | The Impact of Riparian Forest Management on Shade Production. |
| FS 9: | The Impact of Riparian Forest Management on Large Woody Debris (LWD) Recruitment Potential. |

Project Fact Sheets (2002):
| | |
| --- | --- |
| FS 10: | Integration Across Disciplines: Investing in Technologies to Produce Products, Energy, and Restoration of Forest Health in Fire Prone Forests of the Inland West? |
| FS 11: | Economic impacts of RMAPs and required road upgrades on small forest landowners in Western Washington. |
| FS 12: | Economic impacts of RMAPs and required road upgrades on small forest landowners in Eastern Washington. |
| FS 14: | An Examination of the Potential for Riparian Buffers on Agricultural Lands to Augment Farm Incomes, Increase Hardwood Inventories, and Protect Streams. |
| FS 15: | Advanced Quality Control and Standardization Technology for Better Special Forest Products Management. |
| FS 2: | Case Studies in examining the economic impacts of the Forests and Fish rules on NIPF landowners in Western Washington (revised). |
| FS 16: | Ecosystem Management and Non-industrial Private Forest Landowners in Washington State. |
Project Fact Sheets (2003):
| | |
| --- | --- |
| FS 17: | The Role of Forests and Forest Management on Carbon Storage |
| FS 18: | The Use of Forestry Education Program by Small-scale Family Forest Landowners in Washington State: Does Ownership Size Make a Difference in Their Educational Needs? |
| FS 19: | A Systems Approach to Sediment Reduction from Forest Roads with Cross Drains -- CulSed. |
| FS 20: | Impacts of the Forest and Fish Rules on Non-Industrial Private Forest landowners in eastern Washington: some key consequences from riparian case study analysis. |
| FS 21: | Forest Landholders and Fire: A Case Study in Two Counties in Northeastern Washington State |
| FS 22: | After decades of Douglas-fir plantations, is it time for forest landowners to consider planting alder and cedar? |
| FS 23: | An integrated process for developing alternate plan templates for overstocked stands. |
| FS 24: | The Emerging Consensus for Active Management in Young Forests |
| FS 25: | Alternate Planning for small forest landowners in eastern Washington under the Forest and Fish Rules |
| FS 26: | Washington State's Forest Regulations: Family Forest-owners' understanding and opinions: |

2000 Publications
(including related research publications by involved faculty, staff and students):
Lippke, Bruce, Scott Marshall, Michelle Ludwig, Jeffrey Moffett, Dave Fitzpatrick and B. Bruce Bare. 2000. Lewis County Economic Assessment, for the Lewis County Natural Resources Advisory Committee. CINTRAFOR Special Paper 35, College of Forest Resources, University of Washington, Seattle WA. 62pp plus Appendices.

Lippke, Bruce. 2000. A brief introduction to "The Economic Impacts Resulting from Riparian Management." Commentary published in Western Forester, Summer 2000.

Lippke, Bruce. 2000. Two new leaders and two new projects for the University of Washington's College of Forest Resources: (1) CORRIM, (2) Rural Technology Initiative. Lead article in Pacific Rim Wood Market Report, Number 153, May 2000 (print and web media 3pp).

Oliver, Chadwick. 2000. Natural processes and instability in forest land. Published in Proceedings of 24th Annual National Indian timber Symposium, Lewiston ID, June 15, 2000.
2001 Publications
(including related research publications by involved faculty, staff and students):
Allison, Nancy K. 2001. Evaluating silvicultural options for harvesting young-growth coastal Douglas-fir forests using the forest vegetation simulator (FVS) and the landscape management system (LMS). Master's Thesis, College of Forest Resources, University of Washington. 136 p.

Barg, Amy K., and Donald P. Hanley, Silvicultural Alternatives: Variable Retention Harvests in Forest Ecosystems of Western Washington. A Guide for Forest Landowners. Original sketches by Lara Muffley show retention patterns. Includes glossary. WSU Cooperative Extension Bulletin EB1899 March 2001. 20 pages.

Baumgartner, David M., Donald P. Hanley, Melody L. Kreimes, and Steve Gibbs. Forestry Education and Assistance Programs for Washington Forest Landowners. WSU Cooperative Extension Bulletin EB1286. Revised February 2001. 12 pages.

Brannon, Thomas, David Baumgartner, and Don Hanley. 2001. Roads on Small Acreage Forests, Washington State University Extension Bulletin EB1910. 12pp.

Creighton, Janean, and David Baumgartner. 2001. "Mammals of the Pacific Northwest." WSU Cooperative Extension Bulletin EB1849

Creighton, Janean, and John Lehmkuhl, David Baumgartner, and Chris. Loggers. 2001. "Wildlife considerations for private landowners from the management of over-stocked, small diameter forest stands in eastern Washington." WSU Cooperative Extension Bulletin EB 1905.

Hall, Justin S. 2001. Forest management planning: a comparison between linear programming and new tools in the landscape management system. Master's Thesis. College of Forest Resources, University of Washington.

Hanson, Kirk. 2001. Washington Develops First-Ever Small Forest Landowner Database. Northwest Woodlands, Portland OR. Fall 2001, Vol. 17, No. 4. pp 24, 30&31.

Johnson, Morris C. 2001. Testing the landscape management system (LMS) and decision analysis (Scope&Group and Toggle) tools on a forest landscape. Master's Thesis. College of Forest Resources, University of Washington.

Lippke, Bruce. 2001. "Issues impacting the sustainability of family forest ownership and the functioning of working forests: What we know and don't know." Available at www.Ruraltech.org College of Forest Resources.

Mason, Larry. 2001. The Rural Technology Initiative: Computer Technology for Tomorrow's Forests Today. Northwest Woodlands, Portland OR. Fall 2001, Vol. 17, No. 4. pp 20-21.

McCarter, James B. 2001. Landscape Management System (LMS): Background, methods, and computer tools for integrating forest inventory, GIS, growth and yield, visualization and analysis for sustaining multiple forest objectives. Ph.D. Thesis. College of Forest Resources, University of Washington.

Nelson, Christopher E. 2001. Exploration of Structural Stage Classification Algorithms. Master's Thesis. College of Forest Resources, University of Washington.

Oliver, C.D., and J.B. McCarter. 2001. The Landscape Management System Program: Landscape level planning and analysis. Paper presented at the conference: Forest Growth and Yield Models: Making the Best Business and Planning Decisions. Emerald Chapter of the Oregon Society of American Foresters and the Western Forestry and Conservation Association. (Papers compiled) November 5, 2001, Eugene, Oregon.

Park, Pil Sun. 2001. Forest stand structure characteristics for the Cispus adaptive management area, Cascade Range, U.S.A. : implications for old growth, fire hazard, silviculture, and landscape management. Ph.D. Thesis. College of Forest Resources, University of Washington. 161 p.

Rogers, Luke W. 2001. The Washington State Small Forest Landowner Database: Design & Implementation. Seattle, WA: Rural Technology Initiative, College of Forest Resources, University of Washington. Prepared for the Washington State Department of Natural Resources under contract.

Rogers, Luke W. 2001. PEGGER & ROADVIEW: A New GIS Tool to Assist Engineers in Operations Planning. International Mountain Logging and 11th Pacific Northwest Skyline Symposium Proceedings. Seattle, WA: Forest Engineering, College of Forest Resources, University of Washington. Presented at the International Mountain Logging and 11th Pacific Northwest Skyline Symposium, SeaTac, WA, December 2001.

Wilson, J.S., and P.J. Baker. 2001. Flexibility in forest management. Forest Ecology and Management. (In press)

Zobrist, Kevin. 2001. Case Studies Demonstrate Technology. Northwest Woodlands, Portland OR. Fall 2001, Vol. 17, No. 4. p 25.

Zobrist, Kevin, 2001;Economic Impacts of the Forest and Fish Rules on Small NIPF Landowners - Ten Western Washington Case Studies, Rural Technology Initiative, College of Forest Resources, University of Washington.

2002 Publications
(including related research publications by involved faculty, staff and students)
Bloxton, Thomas David Jr. 2002, Prey Abundance, Space Use, Demography, and Foraging Habitat of Northern Goshawks in Western Washington, Masters Thesis, College of Forest Resources, University of Washington

Bowyer, Jim, David Briggs, Bruce Lippke, John Perez-Garcia, Jim Wilson. 2002. Life Cycle Environmental Performance of Renewable Industrial Materials: CORRIM Phase I Interim Research Report. CORRIM Inc. (in care of College of Forest Resources, University of Washington). approx 400pages

Ceder, Kevin. 2002. "Linking tools of forest and wildlife managers: wildlife habitat evaluation using the Landscape Management System." FVS Conference February 2002.

Ceder, K. R. and J. M. Marzluff (2002). Linking Tools of Forest and Wildlife Managers: Wildlife Habitat Evaluation using the Landscape Management System. In: Crookston, Nicholas L.; Havis, Robert N. comps. Second Forest Vegetation Simulator (FVS) Conference, Fort Collins, CO, Proceedings RMRS-P-000. Ogden, UT: U.S. Department of Agriculture, Forest Service, Rocky Mountain Research Station. (in press)

Comnick, Jeffrey 2002. Development and Application of a Decision Support Tool to Analyze Alternatives for Landscapes Composed of Multiple Ownerships. Master's Thesis. College of Forest Resources, University of Washington.

Cross, Jason. 2002. Measuring the impact of harvest intensity on riparian forest functionality in terms of shade production and large woody debris recruitment potential: two models. Master's Thesis. College of Forest Resources, University of Washington.

Gehringer, Kevin R. 2002. A Tutorial on Probability Based Target Definition and Assessment with an Application to Forest Management. A document prepared for the Rural Technology Initiative, College of Forest Resources, University of Washington, Seattle, WA 98195. 66pp.

Hanley, D.P., C.L. Mason, J.B. McCarter (2002). "Landscape Management System: Bringing Training to Rural Forest Managers." Journal of Forestry 100 (5): p. 5.

Hanley, Donald P., and David M. Baumgartner, 2002, Forest Ecology in Washington
WSU Extension Bulletin. No. EB1943.

Lippke, B.R., B. Bruce Bare, Weihuan Xu, Martin Mendoza. 2002. An Assessment of Forest Policy Changes in Western Washington. Journal of Sustainable Forestry Vol. 14(4) pp63-94

Manriquez, Carolina, 2002. Carbon Sequestration in the Pacific Northwest: a model. MS Thesis. University of WA. College of Forest Resources. 158p.

Marzluff, J.M., J.J. Millspaugh, K.R. Ceder, C.D. Oliver, J. Withey, J.B. McCarter, C.L. Mason, J. Comnick. 2002. "Modeling changes in wildlife habitat and timber revenues in response to forest management" Forest Science 48(2): pp. 191-202.

Meil, J., B. Lippke, J. Perez-Garcia and J. Bowyer. 2002. Life cycle environmental performance of renewable materials in the context of residential construction. Appendix G in: Bowyer, J., D Briggs, B. Lippke, J. Perez Garcia and J. Wilson. 2002. Life Cycle Environmental Performance of Renewable Industrial Materials: CORRIM Phase I Interim Research Report. CORRIM Inc. 31p.

Rogers, Luke W. 2002. Small Forest Landowners Database Validation and Data Analysis Study for King County, Washington. Seattle, WA: Rural Technology Initiative, College of Forest Resources, University of Washington. Prepared for the Washington State Department of Natural Resources under contract.

Rogers, Luke W. 2002. Small Forest Landowners Database Validation and Data Analysis Study for Clark County, Washington. Seattle, WA: Rural Technology Initiative, College of Forest Resources, University of Washington. Prepared for the Washington State Department of Natural Resources under contract.

Ryan, John and the Technical and Policy Working Group (Bruce Lippke contributor) 2002. Developing and Deploying Renewable Energy and Combined Heat & Power Technologies—A Role for Washington Industry: Technology and Policy Recommendations. Washington State University, Cooperative Extension Energy Program

Silber, M.L., Freed, J., Davitt, B.B., Lytle, D.C., Alstat, E.K. Quality Control and Standardization Technology of Medicinal and Dietary Non Timber Forest Products Based on Tannin Analysis. In "Rocky Mountain Ecosystems: Diversity, Complexity, and Interactions" (Ed., John Bassman), 2002; 9-13.

Turnblom, E.C., M.M. Amoroso, K.W. Ceder, B.R. Lippke, C.L. Mason, J.B. McCarter. 2002. Estimation of Sequestered Carbon in King County Forests. Final Research Report Submitted to King County, Dept. of Natural Resources. 23p.

Zobrist, Kevin, Bruce Lippke, B. Bruce Bare, Larry Mason. 2002, Management Alternatives under Salmon Protection Regulations: Importance of Case Studies. In Understanding Impacts", in Global Initiatives and Public Policies for Forestry in the 21st Century". A peer reviewed proceedings. Auburn University.
2003 Publications
(including related research publications by involved faculty, staff and students)
Baumgartner, D. M., C. L. Mason. 2003. Rural Technology Initiative (RTI), A Pilot Project to Assist Rural Forest Resource-Based Communities in Washington State, U.S.A (submitted for publication in proceedings). IUFRO Symposium on Forestry and Rural Development in Industrialized Countries: Policy, Programs and Impacts. Rotorua, New Zealand.

Carroll, M.S., P.J. Cohn and K. A Blatner.2003. Private and Tribal Forest Landowners and Fire. A Two County Case Study in Washington State. (forthcoming) The Canadian Journal of Forest Research.

Gehringer, Kevin R. 2003. Estimating Expected Values for Potentially Recruitable Large Woody Debris. A white paper prepared for Rural Technology Initiative, College of Forest Resources, University Of Washington, Seattle, WA 98195. 21pp.

Hanley, Donald P., Gary Kuhn. Trees Against the Wind. PNW-Ext. Bull. No. 5. (A basic agro-forestry excessive wind and snow bulletin for landowners living primarily in the arid region of the Pacific Northwest. Windbreak designs, placements, and species selections are included. Agro-forestry and wildlife emphasis are included.)

Lippke, Bruce. 2003. Technology Transfer Opportunities for Small Diameter Timber Problems, in Small Diameter Timber: Resource Management, Manufacturing, and Markets, Symposium Proceedings edited by D. Baumgartner, L. Johnson and E. DePuit, Washington State University

Mason L, K. Ceder, H. Rogers, T. Bloxton, J. Comnick, B. Lippke, J. McCarter, K.
Zorist. 2003. Investigation of Alternative Strategies for Design, Layout and
Administration of Fuel Removal Projects. Rural Technology Initiative, College of
Forest Resources, University of Washington, Seattle, WA 98195. 78pgs.

Oneil, Elaine E., 2003. Impacts of the Forest and Fish Rules on Small Forest Landowners in Eastern Washington: Some Key Consequences from Riparian Zone Case Study Analysis, Masters Thesis, College of Forest Resources, University of Washington

Rogers, Heather K., 2003, Investigation of Alternative Fuel Removal Strategies, Masters Thesis, College of Forest Resources, University of Washington

Rogers, Luke W. 2003. The Assessment of Non-Industrial Private Forestlands by Water Resource Inventory Area. Seattle, WA: Rural Technology Initiative, College of Forest Resources, University of Washington. Prepared for the Washington State Department of Natural Resources under contract.

Rogers, Luke W. 2003. Determination of the Current State of Geographic Information Systems Data in Washington State Counties. Seattle, WA: Rural Technology Initiative, College of Forest Resources, University of Washington. Prepared for the Washington State Department of Natural Resources under contract.

Southerland, W. Barry, 2003, Stream Geomorphology and Classification in Glacial – Fluvial Valleys of the North Cascade Mountain Range in Washington State, PhD thesis, Washington State University, Pullman Washington, 141 pp.

Zobrist, Kevin, and Bruce Lippke. 2003, Case Studies Examining the Economic Impacts of New Forest Practice Regulations on NIPF Landowners", Chapter 19 in Forest Policy for Private Forestry: Global and Regional Challenges, Edited by L. Teeter, B. Cashore, and D. Zhang. CABI Publishing. pp 203-210. ISBN: 0851995993
2004 Publications
(including related in process research publications by involved faculty, staff and students)
Creighton, Janean and David Baumgartner. 2004est. "Small-scale family forests and Washington State's land-use regulations: how much do landowners know?", To be submitted to Western Journal of Applied Forestry.

Gehringer, Kevin R. 2004est. A Nonparametric Method for Defining and Using Biologically Based Targets in Forest Management. In: Bevers, Michael; Barrett, Tara M., comps. 2004. Systems Analysis in Forest Resources: Proceedings of the 2003 Symposium; October 7-9, Stevenson, WA. Proceedings RMRS-P-000. Ogden, UT: U.S. Department of Agriculture, Forest Service, Rocky Mountain Research Station.

Gehringer, Kevin R. 2004est. Nonparametric Target Definition and Assessment Procedures and their use in Forest Management. A paper to be submitted to Forest Ecology and Management.

Marzluff, J. M., J. J Millspaugh, K. R. Ceder, C. D. Oliver, J. Withey, J. B. McCarter, C. L. Mason, J. Comnick. (in review). "Modeling changes in wildlife habitat and timber revenues in response to forest management." Forest Science.

Perez-Garcia, John, Bruce Lippke, Jeffrey Comnick, and Carolina Manriquez. 2004. Tracking Carbon from Sequestration in the Forest to Wood Products and Substitution, Module N in Life Cycle Environmental Performance of Renewable Building Materials in the Context of Residential Construction, by Bowyer et at 2004.

Bowyer, J., J. Perez-Garcia, B. Lippke, D. Briggs, J. Wilson. 2004. Life Cycle Environmental Performance of Renewable Building Materials in the Context of Residential Construction, CORRIM, published by the College of Forest Resources, University of Washington, Seattle. 600+ pages