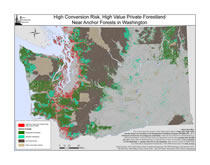 To better understand where family forests are located and who owns them, the Rural Technology Initiative at the University of Washington, the Family Forest Foundation, and the Washington Farm Forestry Association, with funding from the USDA Forest Service has created a statewide parcel-based forestland database.
Read or Download the 2007 Washington State Forestland Database: Final Report (PDF)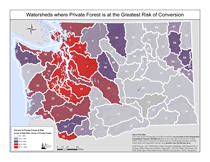 The 2007 Washington State Legislature directed the University of Washington College of Forest Resources and its Northwest Environmental Forum to produce recommendations "for retaining the highest valued working forest lands at risk of conversion to non-forest uses." Since 2004, Forum dialogues have
brought together over 400 participants from 94 organizations, representing the full range of interests concerned about the future of Washington's forests. Informed by in-depth research from the College, a remarkable consensus about the nature of the threats and the steps that must be taken to conserve our state's working forests has emerged.
Read or Download the Retention of High‐Valued Forest Lands at Risk of Conversion to Non‐Forest Uses in Washington State (PDF)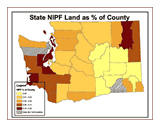 On the June 30th, 2001 deadline RTI handed a working small forest landowner database for the state of Washington over to the Washington Department of Natural Resources Small Forest Landowner Office. The intent of the database is to better understand the effects of the Salmon Recovery Act on the landowners and the waters, and as a source to contact the landowners with regards to new forestry technologies and future easements provided by the state to compensate for lost revenues.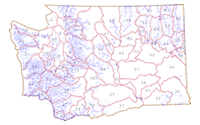 Restoration of Washington's threatened and endangered salmon runs can be assisted by focusing restoration efforts in areas where the most habitats can be created for the least cost. The Washington State Department of Fish & Wildlife and the Department of Natural Resources as well as many local fish enhancement groups have come together to locate and survey many of the State's salmon streams. These surveys have produced Geographic Information System (GIS) layers that show the location, condition and fish passage status of dams, culverts, and fishways around the state. This information, combined with knowledge of who owns the land, can help local groups and funding agencies to identify target restoration areas. Currently, there are many assistance programs targeted specifically at Non-Industrial Private Forestlands and Small Forest Landowners.