Thirty-Sixth Annual
National Indian Timber Symposium
"Expanding Roots: Cultivating Relationships & Opportunities"
May 14 – 17, 2012
Hosted by:
The Confederated Tribes of the Warm Springs Reservation of Oregon
At the Kah-Nee-Ta High Desert Resort in Warms Springs Oregon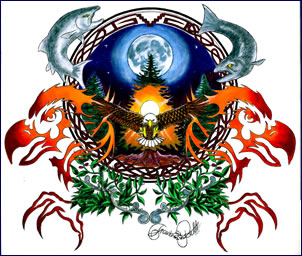 ( 2012 National Indian Timber Symposium Logo; by Travis Bobb)
Symposium Video Presentation Navigation

Welcome
Overview of the goals for the symposium
Host Tribe
Host Tribe Regional Presentations: The Confederated Tribes of the Warm Springs Reservation of Oregon
Luncheon
ITC Leadership Lecture Series Luncheon
Panel 1
First Foods: Tribal perspectives, balancing ecological, recreational and cultural needs, bringing together research and current knowledge.
Panel 2
Student presentations on Forestry, Fire & Fuels and Natural Resource Projects Related to Native American & Indigenous Peoples.
Informational Updates
ITC President's Report, Bureau of Indian Affairs, National Association of State Foresters, Legislative Update, and US Forest Service Office of Tribal Relations.
Workshop 1
Protecting Tribal Sovereignty: Federal Environmental Regulation in Indian Country.
Workshop 2
Developing Tribal Relationships with Non-Profits and Universities.
Workshop 3
Efficient and Effective Management of Tribal Resources: The Importance of Integration and Cooperation to Achieve Success.
Tribes
Contributing tribes and organizations
Welcome to the 36th Annual National Indian Timber Symposium (4:53)
Stanley (Buck) Smith, Sr. - Chairman; Confederated Tribes of Warm Springs Reservation of Oregon, Warm Springs, OR

Bureau of Indian Affairs (1:30)
Floy (Lori) Anderson - Acting Superintendent; Warm Springs Agency, Bureau of Indian Affairs, Warm Springs, OR
ITC President Welcome (4:55)
Larry Blythe, Vice-Chair, Eastern Band of Cherokee Indians, Cherokee, NC
Bureau of Indian Affairs (8:30)
Bodie Shaw - Deputy Regional Director; Trust Services, BIA, Northwest Regional Office, Portland, OR
Keynote
Roger Fernandes (Kawasa)- Vice Chair of the Wisdom of the Elders; Lower Elwha Band of the S'Klallam Indians, Port Angeles, WA
*the stories told by Roger Fernandes were not recorded due to microphone issues. Please visit the Wisdom of the Elders website to view a short video.
ITC Leadership Lecture Series Luncheon (17:38)
Fred Matt - Executive Director; Native American Fish & Wildlife Society, St. Ignatius, MT
Host Tribe Regional Presentation (34:54)
Charles "Jody" Calica - Secretary-Treasurer/CEO; Warm Springs Natural Resources Staff, Warm Springs, OR
The Confederated Tribes of the Warm Springs Reservation of Oregon (27:15)
Robert Brunoe - Natural Resources General Manager, Warm Springs, OR
Managing Complex Forests on the Warm Springs Reservation (15:03)
Ryan Singleton, Silviculturist, Warm Springs, OR
First Foods: A Cultural Approach to Management of Natural Resources
Wenix Red Elk - Education Outreach Specialist; Department of Natural Resources, Confederated Tribes of the Umatilla Indian Reservation, Pendleton, OR
*This presentation is not available for viewing

First Foods: The significant uses of First Foods on Warm Springs Reservation (24:10)
Arlita Rhoan - Culture and Heritage Department; The Confederated Tribes of Warm Springs, Warm Springs, OR

The Return of the Waptu: Yakama Nation (20:03)
Emily Washines - Outreach Coordinator; Yakama Nation Fisheries, Toppenish, WA

Return of the Wapato (Potato) - a video created by Emily Washing. This video is also included in Emily Washine's presentation.
Moderator Introduction to the Panel (1:28)
Adrian Leighton, ITC Research Subcommittee Co-Chair, IFMAT III Team/Forestry Professor, Salish Kootenai College, Pablo, MT
Effects of Landscape Pattern and Forest Treatments on Spotted Owls and Fire Risk: Comparing National Forests to Indian Forests (19:20)
Serra Hoagland - PhD Student; Northern Arizona University, Flagstaff, AZ
Quantifying Forest Composition and Structure Patterns with Multivariate and Geospatial Statistics for Sub-Watersheds Within the Yakama Nation Tribal Forest and Okanogan-Wenatchee National Forest (12:04)
Tmth-Spusmen (Spus) Wilder - Graduate Student; University of Washington, College of the Environment, School of Environmental & Forest Sciences, Seattle, WA
Conversion of Primary Forest Residue to Biochar with a Mobile Pyrolysis Blanket (10:25)
Burdette Birdinground - Undergraduate, Salish Kootenai College; Pablo,MT/ Summer Intern, University of Washington-Department of Chemical Engineering; Seattle, WA
ITC President's Report (17:00)
Larry Blythe, Vice-Chair, Eastern Band of Cherokee Indians, Cherokee, NC
Bureau of Indian Affairs (21:22)
Bill Downes - Chief Forester; BIA Division of Forestry and Wildland Fire Management, Washington, DC
National Association of State Foresters (28:23)
Chris Maisch, State Forester, State of Alaska, Fairbanks, AK
Legislative Update (25:49)
Mark Phillips, ITC Information & Research Specialist, Edwards Associates, Washington, DC
US Forest Service Office of Tribal Relations (18:05)
Fred Clark, Director, Office of Tribal Relations, USDA Forest Service, Washington, DC
Estelle Bowman, Assistant Director, Office of Tribal Relations, USDA Forest Service, Washington, DC

*The projector malfunctioned during this presentation, but the slides were added to the video after the fact. Our apologies to Fred Clark and Estelle Bowman; nice work at delivering your message without the visual aid of slides.
Workshop 1 Overview (4:50)
Kenny McCoy - Land Acquisition Forester; Quinault Division of Natural Resources, Tahola, WA

Tribal Sovereignty, Reserved Rights, and Environmental Protection (1:13:17)
Mary Christina Wood - University of Oregon School of Law, Eugene, OR

*This short video is included in Mary Woods presentation.

Are Federal Requirements for Tribal Consultation Effective in Preserving Traditional, Cultural and Religious Uses of Natural Resources? (37:25)
Seth Pilsk -Ethnobotanist; San Carlos Apache Tribe, San Carlos, AZ
Secretarial Order 3206: Indian Tribes & Endangered Species (44:57)
Gary Morishima - Technical Advisor; Quinault Indian Nation, Mercer Island, WA
Federal Environmental Regulation in Indian Country: The Quinault Experience 31:03)
Nancy Eldridge -Planning Forester; Quinault Indian Nation, Taholah, WA
Open Discussion (39:17)
Workshop 2 Overview (9:21)
John Gordon - Chairman; Interforest LLC, Portland, OR

Considerations in policy when working with researchers and research institutions (29:47)
John Hartman -Cultural Resource Information Systems; Dept. of Natural Resources, Coeur d'Alene Tribe, Plummer, ID
Rodney Frey - Professor of Ethnography; University of Idaho, Moscow, ID
Communities for Healthy Forests (15:37)
Sue Kupillas - Executive Director; Communities for Healthy Forests, Medford, OR
Encroachment of Forests on Historic Prairie Lands (19:16)
Tim Vredenburg - Director of Land Resources and Environmental Services; Coquille Tribe, Coos Bay, OR
2003 B&B Fire restoration and fire prevention/resiliency (18:27)
Trey Leonard - FMO; Warm Springs Fire Management, Warm Springs, OR
White Mountain Apache Tribe: Tribal Forestry Case Study (32:32)
Jonathan Brooks - Forest Manager; White Mountain Apache Tribe, Whiteriver, AZ
Donegan Prairie Restoration (21:33)
Amy Amoroso - Natural Resources Director; Cow Creek Band of Umpqua Indians, Roseburg, OR

Anchor Forests: an Intertribal Timber Council Proposal (18:24)
Steve Andringa - Program Manager/Administrative Forester; Yakama Nation, Toppenish, WA
Open Discussion (34:48)
Workshop 3 Overview (7:22)
Jim Erickson - ITC Fire Technical Specialist; Coulee Dam, WA
Tribal Governance and Business Structures (43:11)
Faline Haven -Senior Forester; USDOI Bureau of Indian Affairs, Washington, DC
Creating Indigenous Economies and Sustainable Communities (38:59)
Robert Miller - Professor; Lewis & Clark Law School, Portland, OR
Exploring Markets for US Wood Products (42:09)
Ivan Eastin, Ph.D. - Director; Center for International Trade in Forest Products. School of Forest Resources, University of Washington, Seattle, WA
The True Meaning of Team Work: Operational Efficiencies (18:16)
Chris Knowles - Assistant Professor of Forest Products Marketing/Assistant Director of the Oregon Wood Innovation Center; Oregon State University, Corvallis, OR
Integrating the Operation of Tribal Programs with Tribal Mills (27:35)
Lawrence Waukau - President; Menominee Tribal Enterprises, Keshena, WI
Working with Outside Mills and Expanding Partnerships (22:02)
Duane Plant, CSKT Project Planning Program Manager, Confederated Salish & Kootenai Tribes, Pablo, MT
Open Discussion (34:48)